Apple announced the release of its much anticipated over-ear headphone dubbed the AirPods Max sporting a powerful active noise cancellation technology and other fast processing chipset to make it work well then Huawei made its own.
Basically, I've always had issues with these Chinese tech companies outright ripping off existing Apple products and cloning it to their own in every possible ways.
Even the name Freebuds Studio can be traced back to the time when Apple was aid to name the new headphone as AirPods Studio so its safe to say Huawei ripped it off but off the paper, the Freebuds Studio sport some cool feature that indeed make it a close competitor of the existing headphone despite being sold for less as the AirPods Max costs about US$549.
Despite the Huawei Freebuds Studio being the company's first premium over-ear headphones, it was announced earlier than that of Apple in Europe for a fee of €299 which like half the price of the AirPods Max.
Comparing both, the Chinese's tech giant own doesn't have man color options and not as stylish but its quality makes up for the not-so-cool design of the headphone and this time, Huawei didn't outright rippoff the design in its entirety as well just like the entire world of TWS earbuds are based on the AirPods Pro design. Below are some differentiating factors that sets both headphones apart from each other.
TECHNOLOGY IN FULL DETAILS
Subscribe for free daily tech updates, tips, bargains, and many more.
By signing up, you agree to our Terms of Use and Privacy Policy. You may unsubscribe at any time.
Parameters
Apple AirPods Max
Huawei FreeBuds Studio
Drivers
40mm custom dynamic drivers
40mm dynamic driver
Chip
Apple H1 Chip (one in each cup)
Kirin A1 Chip
Active Noise Cancelation
Yes

Transparency mode to let ambient sound in

Yes (intelligent Dynamic ANC with multi-scene detection that automatically adjusts based on the environment)

Hear-through mode to let ambient sound in.

Total number of microphones
9
(8 microphones for Active Noise Cancellation)
8
(8 microphones for Active Noise Cancellation)

(6 microphones for Call Noise Cancellation)

Sensors
Optical sensor
Position sensor
Case-detect sensor
Accelerometer
Gyroscope
IMU Sensor for scene detection
Capacitance sensor
Microphone sensor
Control
Digital crown

Physical button

Touch control

Physical buttons

Connectivity
Bluetooth 5.0

Lightning port

Bluetooth 5.2

USB-C

Battery Life
Up to 20 hours with Active Noise Cancelation/Transparency Mode/Spatial Audio on
Up to 20 hours of listening time with ANC off (24 hours with ANC on)
Fast Charging
5-minute charge provides 1.5 hours of listening time
10-minute charge provides 5 hours of listening time (8 hours with ANC turned off)
Other features
Spatial Audio
Adaptive EQ
Multi-device connection
Low-latency gaming mode (Huawei devices only)
Multi-device connection
L2HC Hi-res Codec support (Huawei devices only)
Compatibility
iPhone, iPod, iPad, Apple TV, and Mac
Devices running Android, iOS, or Windows
Weight
384.8 grams
260 grams
Price
$549/€597/£549
€299/£299.99
Design and Weight
Both devices are made with premium quality materials based on what we've red but preference about which is more attractive might be subjective to the consumer themselves.
As for the AirPods Max, it comes with multiple color options while the Freebuds Studio is somehow limited.
Apple's headphones also weigh about 50% more than the FreeBuds Studio. The weight may play a part in how comfortable the headphones are when worn for long but who knows.
Active Noise Cancellation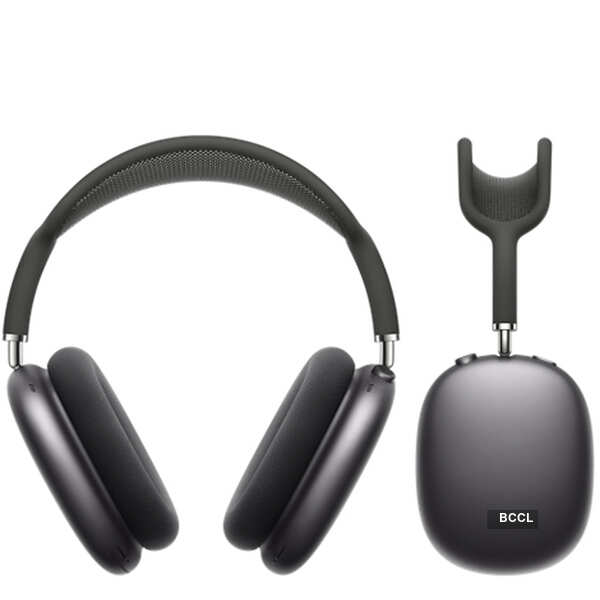 This will definitely require we physically test both out to see which is better but out of the paper, both offer a glimpse into what might be experienced when using the ANC technology.
Apple puts 9 microphones on the AirPods Max to help it detect ambient noise and then convert those to the opposite which is total silence when in use but then the Huawei's Freebuds Studio add up to its own device which allows users to automatically adjust the level of ANC.
According to Chinese big tech company, it completes 100 scene detection scan per seconds and will adjust to an Ultra Mode when on a plan or train ride while it can switch to General Mode when in other public places like restaurant or cafe or change to Cozy Mode when at work or in a quiet place. How Nice!
Transparency Mode/Hear-through Mode
This is one of the parts whereby the Apple AirPods Pro exceled last year which allow user to listen to ambient noise and their environment.
The Freebuds Studio also adds up to this as well by adding up an hear-through mode which includes the Awareness mode, Voice Mode all which can be set up via the AI Life application.
When activated, it enhances human voices but reduces environmental noise. This is particularly useful if you are having a conversation with someone or you are at the train station or airport where it is usually noisy but you need to listen to announcements while blocking out other noise.
Control
Apple cloned the digital crown seen on the Apple Watch on the AirPods Max which will allow users to adjust the volume, switch tracks, pick calls or summon Sir.
While the Freebuds Studio incorporates the touch control system which covers a larger area of the headphone which I don't really find interesting due to accidental touching.
Users can adjust the volume by swiping upwards or downwards, switch tracks with a horizontal swipe, play/pause, or answer/end a call with a double-tap, and call on the voice assistant/reject a call with a long press.
Most TWS earbuds support touch controls including Apple's own AirPods, so it will be easy for anyone who is used to that to switch to the FreeBuds Studio.
Battery Life and Fast Charging
With ANC turned on, the battery life on both devices are the same but Apple didn't tell how long its AirPods Max will last with ANC turned off.
Unlike the Freebuds Studio, users are expected to get about 4 extra hours with the ANC turned off which if true is going to be groundbreaking and totally fine.
Where the difference lies is in fast charging and this is where Huawei wins. A 10-minute charge will give you up to 5 hours of listening time (8 hours if you turn off ANC) but Apple's own earphones will provide 1.5 hours of listening time but at half the charging duration.
10 Minutes charge to get 5 hours of continuous music playback might be impossible with the AirPods Max.
Compatibility
Both devices are equipped with the latest Bluetooth technology which allow them to connect fast with other devices.
But with the Huawei Freebuds studio, it will primarily be based on Android due to the AI Life app being limited to Android but it can also work with other platforms such as iOS and Windows.
There are also features that only work with devices running EMUI 11 which means Huawei's own phones and tablets.
The AirPods Max works with Apple products only. So if you don't have a compatible iPhone, iPod, Apple Watch, or Mac, then this is not the headphones for you.
The Pricing
In terms of the pricing, we all know that the AirPods Max is very expensive. So expensive it's price is much more than many high-quality mid-range smartphones which i a whooping US$549.
But on the other hand is the Huawei Freebuds Studio which costs half of the price at around US$279 (based on Google exchange rate). But many Apple enthusiasts wouldn't mind the pricing and will surely go for it but alternatively, the Huawei Freebuds Studio might be a great alternative.
Price is a determining factor when you are purchasing a product. The AirPods Max commands a higher price tag than Huawei's own headphones but as we know Apple's high price tags don't usually work against it. The AirPods Max will sell in thousands if not in hundreds of thousands. However, if you are looking for something less expensive but that doesn't skimp on quality, Huawei's FreeBuds Studio should be on your radar.
What else?
But this are based on the specifications released by both companies and for sure, we might see more Apple AirPods Max being cloned out by other companies before the middle of the year 2021 but who knows, the Huawei Freebuds might sell better considering the endless list of features it will feature.
A proper testing of both devices is where we can say which is better in terms of battery capacity and life expectancy, ANC quality and the audio output quality among other relevant things.