Please do note that Brumpost might get some commissions when you purchase through our link. Learn more
Keyboards are pretty important components in computers unless you don't want to type anything. The better the keyboard, the more efficient you become in typing or creating text-based contents.
There are literally innumerable keyboards out there with few of them being good enough because of the key travel and their durability. But it doesn't matter what you need a keyboard for be it gaming or content creation or just something you need for your Windows PC, below are some of the very best Keyboard for 2021 you can buy at a relatively affordable price point.
Anne Pro 2 Mechanical Keyboard
The first product on the list is the amazing Anne Pro 2 keyboard offering a massive 61 keys. This is an high-tech gaming keyboard with a powerful key travel and sturdy build quality that makes it essentially tough and easy to handle whether as a home office keyboard for content creation or for plain gaming.
It comes with Bluetooth 4.- which helps it to connect remotely with your PC wirelessly allowing you to work without the need to stay within a certain range of the cable of a keyboard. It's beautiful RGB LED backlit makes it pretty useful and great at night which is essentially another great value you get from this device and lastly, the key response and travel is pretty fast which is why this is one of the most recommended keyboard for those seeking a good quality keyboard that can serve multiple purposes.
If you want a flattened keyboard with a minimalistic design, this might not be your choice because this is designed with some gaming aesthetics in mind hence the ergonomic design as well as the inclusion of the RGB backlit all which makes the device good looking while also being a useful tool at the same time.
See at Banggood
Anne 2 Pro
---
Advanced gaming keyboard with 62 Keys and RGB backlit with Bluetooth 4.0 for instant connectivity.
---
BlitzWolf® BW-KB1 63 Keys Mechanical Keyboard
This is yet one of the most advanced mechanical keyboards on the market as of today. Sporting all the incredible features you'll expect from an advanced gaming keyboard which includes numerous keys for different functionalities and then the Gateron switch, RGB backlit for night life as well as USB Type-C connection for modern computers.
One disadvantage of the BlitzWolf® BW-KB1 63 is the fact that this device is a wired keybiard which unlike the aforementioned Anne Pro 2 mechanical keyboard that comes with support for Bluetooth 4.0, the Blitzwolf keyboard is limited as for the farther away you can get from where it's connected.
However, that doesn't change the fact that this device have some really cool features, an ergonomic design which gives it the standard toughness that makes it handle intense tasks and can be used to compute innumerable letters at once. Being a gaming keyboard meant it can also be used for full-time text-based content creation anytime.
And lastly, there is the USB Type-C which mean you can as well use it in place of your MacBooks keyboard or use with other Windows-based PCs and you'll get your absolute results with no delay.
See at Banggood
BlitzWolf® BW-KB1 63
---
Wired RGB keyboard with USB Type-C support and ergonomic build quality with RGB backlit and so much more
---
Gamakay K61
The Gamakay brand is a big one in terms of computer electronics for users and this product the Gamakay K61 is one of their best keyboards so far offering an immense capability and essential features that makes it an interesting device anyone seeking to purchase a new keyboard in 2021 can look up and try out thanks to the big time 4.89 stars rating from a large number of customers.
It features RGB background lighting system that gives it a unique look when its being used at night but that's not all it also come with a color disc toning setting with 16 million colors with which you can adjust the output of the RGB. It's an essential gaming keyboard with a pretty sturdy build quality and portable design.
Much like the aforementioned BlitzWolf keyboard above, the Gamakay K61 also come with support for wired connection through the latest USB Type C connection and can transmit in a rate of about 40gbp/s which is insanely fast for content creation or game play because the faster yor keyboard works when playing games, the better.
See at Banggood
Gamakay K61
---
Support for USB Type-C version 3.1 with unique design aesthetics and so much more
---
Geek Customized GK61X GK61XS Keyboard
This is a special keyboard with some pretty unique features different from the ones mentioned earlier. This device can be customized by the owner to suit their very own needs and it comes with support for some really cool technologies such as Dual mode with PCB mounting.
Despite being a wired keyboard, it also come with Bluetooth support and its keyboard can be swappable while it produces an immense RGB backlit to give you good visions when typing at night or in a darkened environment.
Features includes the following:
Equipped with hot swappable terminals, you could install the MX switches directly without soldering, easily build up your own mechanical keyboard.
Equipped with RGB SMD light, multiple light effects for your option.
60% layout PCB, widely compatible with most of 60% keyboard case, you could change the case as you wish.
PCB is compatible with multiple switches, supports Cherry Switch / Gateron Switch / Kailh BOX Switch and so on.
Equipped with a detachable USB type-c cable.
While its one of the best on the list thanks to its numerous features and location, it offers you a much better experience which is something everyone wants. And speaking of what everybody wants, this device holds a whooping 5-stars from more than 500+ happy customers.
See at Banggood
Geek Customize GK61X
---
A powerful fully-customizable keyboard with support for many things you'd expect from a premium device.
---
Kemove Snowfox 61 Keys Mechanical Keyboard
This is another super great keyboard for Windows PC. It comes with a pretty compact design with a really perfect size that makes it really moderate on your desk. It also come with adjustable bracket, two gear heights with high-end 64-bit master controls. There is also an independent RGB control IC, mechanical switch and 300ma large-capacity battery to power up its wireless connectivity.
Being a mechanical keyboard, it's a really ideal device for gaming as well as full-time text-based content creation. This device is a pretty beautiful looking one thanks to the RGB backlit which can be configured to sync with music playback. USB Type-C for usage with wired connection while Bluetooth 5.1 is there for wireless connection.
See at Banggood
Kemove Snowfox Mechanical Keyboard
---
Programmable keyboard with RGB LED backlit and USB Type-C for wired connection. It also support Bluetooth 5.1 for wireless connection
---
AKKO 157 Keys Neon Keycap
The AKKO 157 Keys Neon keycap happens to be one of the most interesting keyboard you can get to replace your olden computer keyboard because of the interesting features and specifications it comes with. This device comes with a pretty sturdy build quality thanks to its keycap which is made of durable PBT materials with a thickness of about 1.5mm.
Due to the stable molecular structure of the material, the PBT keycap is corrosion-resistant and heat-resistant, it is not easy to fade, and can maintain the initial state of the keycap for a long time. The layout is also designed in a ladder keys layout which makes typing much easier for anybody compared to the flattened designs of most computers.
There is a backlit that allows the keyboard to be useful in darkness as well as preventing light from escaping from the keycaps. It also offer a fine texture and good touch which makes content creation entirely comfortable while gaming can also be done through the AKKO 157 Neon Keycap mechanical keyboard.
See at Banggood
AKKO 157 Keys Neon Keycap
---
An advanced keyboard for those who want to create text-based content or just play games.
---
Royal Kludge RK71 Mechanical Keyboard
The Royal Kludge RK71 is a powerful mechanical gaming keyboard with a 71 keys and separate arrow keys making it a useful tool for office users or just a home office use. The design of the keyboard is pretty spacious despite being portable. There are also 18 RGB backlights with 8 monochrome backlight modes and 5 full color backlight modes. The usefulness of these RGB color configuration makes gaming super fun and interesting.
Being a wireless keyboard, you get a pretty powerful battery life thanks to its rechargeable lithium-ion battery which can work for about 10 hours under continuous usage while it would take about 3 hours to charge it up. The battery's energy are saved thanks to the automatic power-saving modes such as the backlight automatically turning off in standby and it can basically enter into sleep mode when not used for a period of time.

In short, it comes with the Bluetooth 3.0 and also support USB wired connection with RGB backlight that can be configured based on your needs and preference.
See at Banggood
Royal Kludge RK71
---
A powerful keyboard with 71 keys and dual modes offering support for both USB and Bluetooth for wired and wireless connection.
---
AKKO 3061 Mechanical Keyboard
This is yet another fascinating device with 61 mechanical keys with wireless connection thanks to its Bluetooth 5.0 and USB Type-C for wired connection and Gateron Switch with PBT keycap and of course the RGB backlit for gaming effects and fascinating experience
The lifespan of the mechanical keys is about 50 million clicks on a single switch which makes it extremely indestructible thanks to its sturdy build and tough build-quality. There are about 16.8 million backlight colors which can be adjusted and configured. Being a programmed device, the AKKO 3061 keyboard is able to memorize about 3 Bluetooth devices which allows for automatic pairing and connection.
There is a powerful large capacity Lithium battery that lasts for a pretty long time thanks to its 1800mAh battery and it has the ability to turn off its backlight automatically when on standby all which allows the battery life to go as far as 12 hours on an constant usage with a single charge but you can also use the USB Type-C for a wired connection.
See at Banggood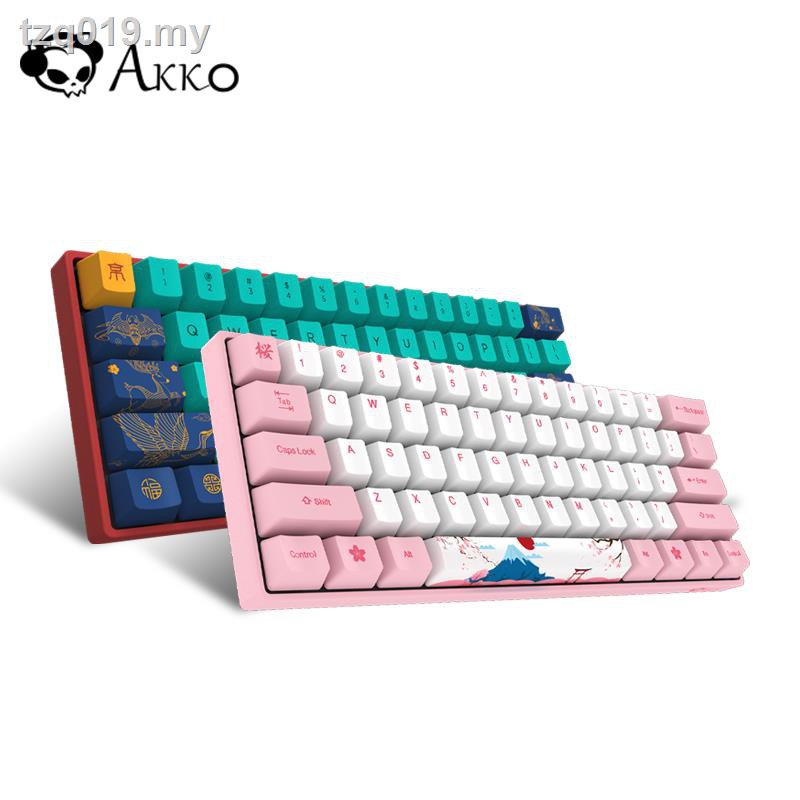 AKKO 3061 mechanical keyboard
---
Offers a long 12 hours of active usage thanks to its massive 1800mAh Li-Ion battery and RGB backlight that can be configured.
---
MT08 2.4G Air Mouse and Keyboard
This is a pretty portable keyboard that can be used for virtually every devices that supports Bluetooth connection. The MT08 comes with RGB backlight and mouse system which makes it an all-in-one device that can work as a remote for your smart TV or your computer or even your tablet. The unique and portable design makes the MT08 portable keyboard seem like a game pads which can be used for gaming.
The build quality is also very tough and strong but then there is also the powerful battery which last pretty long thanks to the automatic power saving mode and backlight that turns off by itself. It also come with a USB connection for wired connectivity. The RGB can also be configured using the mouse interface located at the middle-top of the device.
See at Banggood
MT08 Air Mouse
---
A portable device that can be used for virtually every devices such as Smart TVs, smartphones, computers and tablets.
---
AKKO 3084 SP Ocean Star Mechanical Keyboard
This is another great mechanical gaming keyboard with PBT keycap and cherry switch with SUB Type-C for wired connectivity. Great design with really toughened plastic giving the AKKO 3084 a sturdy look and feel without any jiggle.
There are 84 keys standard design, more than four practical multi-function keys, classic durable narrow-edge design, equipped with multimedia shortcuts, WIN shielding function, support full-key no-rush, free drive Akko Macro V1.0 macro translation system programming.

There is also an 85% PBT material keycap which makes the keys dry and not easy to slip. And there is lastly a Type-C interface and also a support for Type-C equipment, two-stage tripod, three heights while its also being carefully adjusted with a large-key satellite axis for a better user experience.
See at Banggood
AKKO 3084 Mechanical Keyboard
---
Supports USB Type-C and comes with a tough build materials for its sturdy look and feel.
---
Royal Kludge G87 87 Keys Mechanical Keyboard
Another interesting keyboard on this list is the Royal Kludge G87 which comes with support for Bluetooth 3.0 for fast wireless connection but also support USB connection making it suitable for PC and any device that supports Bluetooth and can allow it.
There are 17 backlit effects which can be configured to suit your preference all for an improved gaming experience. The RK G87 can work with multiple devices thanks to the Bluetooth memory which is able to remember different devices and auto-link up with them when connected.

It comes in with an in-built rechargeable battery, sustainable use of electricity for 100 hours under standby but there is also support for Type-C for wired connection and charging. The Royal Kludge G87 also support WIN keys locked or full keys locked and no conflict when all switches are pressed at the same time.
See at Banggood
Royal Kludge G87 Mechanical Keyboard
---
An RGB mechanical keyboard that has support for Bluetooth 3.0 and USB Type connection with durable build quality.
---
Gamakay MK61 Mechanical Keyboard
The Gamakay MK61 mechanical keyboard comes with a PBT Double-shot Pudding Keycaps designed to make your finger feel more smoother and more durable, and not easy to shine as ABS keycaps. It also comes with a 5000W Gateron Optical Switch.
It comes in an array of colors such as Yellow / Green / Red / Brown / Blue all with RGB backlit with 6 themed lighting effects and 16 million adjustable colors. Rated IPX4 making it waterproof with an ergonomic design which makes the device pretty tough and resistant with no jiggles.
The Gamakay MK61 can work with either Windows computers or Linux an even MacOS. The device comes with a programmable buttons and large-capacity on-board memory which can be worked to do more than just creating text-based contents but also can be used for gaming thanks to the interesting RGB LED backlights.
See at Banggood
Gamakay MK61 Mechanical Keyboard
---
Programmable keyboard with LED backlits and USB connection. .
---
The great values of this devices is the fact that they can work wirelessly with pretty much any PC and even devices other than PCs such as smart TVs and tablets. A good example of such includes the MT08 2.4G Air mouse keyboard which is portable and designed like a gamepad.
But there are pretty much other cool features hat makes these devices interesting and worth considering and that includes a powerful battery life and modern Bluetooth connectivity. There is also the chance to use a wired USB Type-C connectivity which is a great alternative for user with no Bluetooth connectivity.
RGB backlights are also great during low-light situations and also there is sturdy build quality with IPX4 water resistance which in situations like water spills, you wouldn't have to worry about your keyboards getting damaged.
---
Disclaimer: Brumpost may get a commission if you purchase any of the listed products using our special links.