The outbreak of the Covid-19 pandemic has led to the death of some 7,100 people while so infecting a alrgee 181,000 people globally which has bring everything to a standstill as of now with events and companies all pausing their events and allowing their employees work from home.
Because of the difficulties caused by the outbreak, one way to fight back and win over the virus is to follow strict rules and guidelines as outlined by the World Health Organisation and other trustworthy organizations.
The usage of surgical mask is important especially if you're going to be meeting people even though some countries have lockdown an entire cities while others have restricted traveling for now.
However, the usage of hand sanitizers and constant usage of surgical mask in the cases of meeting others is important which is what led to this post. So how about you find yourself in a scenario whereby you need to make use of your smartphone but don't want to take off your face mask, and considering the fact tha modern iPhone devices only have Face ID as the means of security authentication, having to remove your mask every now and then isn't a good thing to do as you might infect yourself in the process it proper care isn't taken.
But well, there is a way to go about it. Its a simple yet effective technique with which you can reset your Face ID for masked mugs so here's how to go about it without further ado.
Cover half of your face and unlock with Face ID
The first thing is to put on your Face mask while recreating this as it would increase your chances of getting the Face ID to work out. You might want to use paper on your Face but a surgical mask is better since that's what you'd be using as using a piece of paper have materials which are different from the materials found on the face mask.
Will it compromise your security? Yes, it will. But given how imperative it is to prevent COVID-19 from spreading, the trade-off would be worth it.
1. First thing is to have your face mask folded in half and then used to cover your face as close as possible and also ensure the mask is neat without any wrinkle whatsoever.
2. With the folded mask held on to your face, visit the Settings app on your iPhone > Face ID & Passcode > Get Started and then set up the Face ID as usual.
There is a possibility that your iPhone may appear blocked so you can slowly reveal your face from the half mask covering your face until the circular viewfinder starts working.
Note:If you had set up both primary and secondary Face IDs on your iPhone, you will need to first reset the Face ID.
3. The moment the viewfinder starts, you need to keep the mask's position intact and while maintaining the mask's position, turn your head to complete the process and when you're done, then remove the mask then try to unlock your phone with your face.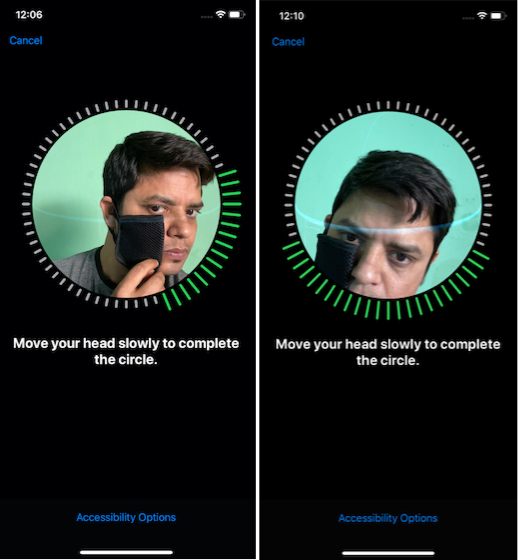 4. Finally, put on the mask on your face and try to unlock your iPhone again.
Voila! It's fully set up now. Going forward, you don't need to take off the mask when unlocking the iPhone.
All said and done
So with that out of the way, this way you'll be able to unlock your iPhone using the Face ID While having your mask on. In case that's a little bit too difficult for you to comprehend, then you can request for further help in the comment section below meanwhile share the post with friends and families that will be interested in it.