Just few days ago we quoted Xiaomi's announcement that there won't be any release of the Mi Mix series this year and of course the 4D all-screen Mix Alpha which had every head turning ever since it's unofficial unveil is part of the so-called "Mi Mix" series so we weren't expecting it again this year until Now.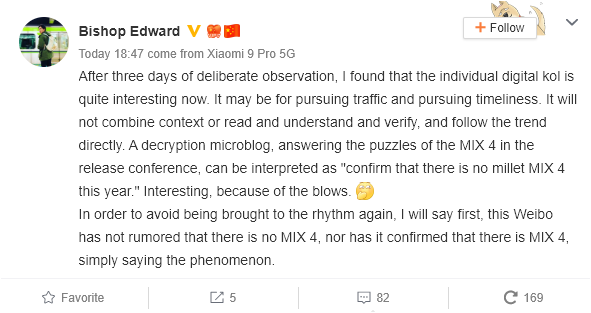 Mr Edward Bishop who is Xiaomi China's brand promotion manager disclosed there won't be a Mix 4 this year but it's like the company's executives are having a second thought about the statement even though there isn't anything official coming out from the company at the moment.
Anyway, the emergence of second-thoughts Xiaomi execs are having might at least give hope to a more affordable Mix Series this year meanwhile the much expensive Mix Alpha could also get a platform too because it falls on this category and even the device i s getting enough attention already.
For whatever it's worth, paying a premium of about $2000 (₦ 723,484 / R 30402) means you're getting an immersive 4D all-round display or Wrap-Display as well as a nice 108MP sensor according to popular leaker, Ice Universe.
The Mix Alpha's price means it won't within the grasp of most Xiaomi fans. Well, except you are willing to trade off some of your body organs to be able to afford the concept phone. Alternatively, we may have to wait a few more years when a Mix Alpha 3 or higher must have been released in order to get the current Mix Alpha at a lower price.
But then, with this news, Xiaomi may still have a huge surprise in store for us. We'll be on the lookout for more details.