It's February and smartphone companies are already working hard to replace their old devices with an updated upgrades which is the same as the RealMe C-series which in a matter of few days will be getting its own newer model.
Thanks to some posters and leaks all over the place, we're able yo know and see what the smartphone is probably going to be like. And as far as specifications are concerned, nothing is official but most of the information could be true to some extent. But what's even more true is that the new RealMe C3 will come bundled with the latest RealMe UI built on top of the latest Android 10.
In fact, fewer RealMe smartphones what runs ont he ColorOS are said to already be getting updates to the RealMe UI which will make the Realme C3 the second smartphones series to get bundled with the new user interface built on top of Android.
Realme UI brings a new user interface and a number of new features such as Focus Mode, Smart Gestures, and personal information protection.
Packed with power and style, the #EntertainmentKaSuperstar is here to set a new benchmark in its price segment. The all new #realmeC3 comes with a MediaTek Helio G70 Processor and delivers exceptional performance, just like a superstar.
Know more: https://t.co/Vb4h8Ghp2F pic.twitter.com/m71HvRLFD0

— realme (@realmemobiles) February 1, 2020
A superstar is meant for the cameras!
Gather for an exceptional photography experience for your travel with a 12MP main camera & 2MP Portrait lens that comes in #realmeC3.
Launching #EntertainmentKaSuperstar at 12:30 PM, 6 Feb on our official channels.https://t.co/Vb4h8Ghp2F pic.twitter.com/XDJMPsc9hp

— realme (@realmemobiles) February 2, 2020
Now as for the specification of the device, its going to be running an Helio G70 chipset which was announced just a few weeks ago with gaming capacity in mind. The 12nm Helio G70 processor has four Cortex-A75 cores clocked at 2.0GHz and four Cortex-A55 cores clocked at 1.7GHz. It also has a Mali-G52 GPU clocked at 800MHz.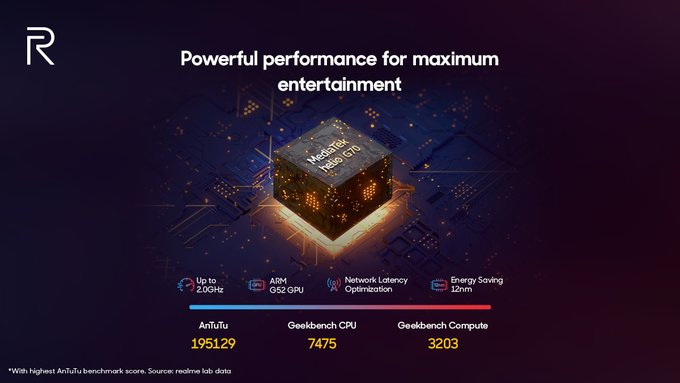 Even before this announcement, there had been a leak that revealed that the chipset will power the Redmi 9 which hasn't been announced as of yet. So the Realme C3 will be the first series of smartphone to run on the new processor even though there seems to be no news about the release date of the Redmi 9.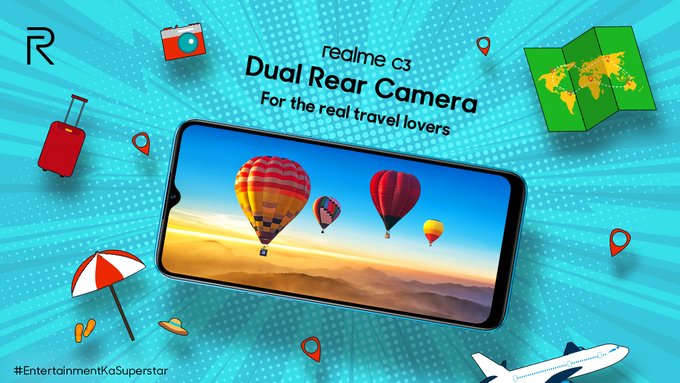 To back up the announcement as being official, the Realme official Twitter handle has confirmed that the Realme C3 will have the following specifications; a 12MP rear primary sensor coupled with a 2MP portrait lens. While the maker of the main camera is yet to be known its certain the aperture size is F1.8 while the second camera is F2.4.
The Realme C2 launched with a 13MP F2.2 + 2MP F2.4 dual camera. The Realme C3 should be able to take brighter photos since it has a larger aperture size.
Other confirmed features of the Realme C3 include a 6.5" Mini-drop Fullscreen and a 5000mAh battery capacity. But we await the release of the C3 for review as well as the price of the device which hasn't yet been confirmed as well.