By May 7, 2019, Google might be showing us in it's annual developers conference a lineup products for smart homes as well as the upgrade of Android mobile software and other Augmented Reality devices.
During the January Consumers Electronic Show, the company showed a trimmed-down version of a smart display that can be placed by the bedside to display the Lenovo Smart Clock as well as a bigger smart display that has the Nest Cam built right into it. Another amazing thing Google showed during the CES was the Google Assistant Connect.
The Invention was aimed at helping companies build hardware that can talk directly to any Google Home devices nearby using Bluetooth technology. Google also showed an E-Link display and a button as a prototypes. The device sends some simple query to any Google Home device it can find nearby with it's computing being done by Google Cloud and then the display can show the current time or weather.
It's a similar approach to the one Amazon launched last fall with its Amazon Echo devices serving up features to satellite Microwave and Wall Clock products. So we expect to see an amazing list of unending list of awesome gadgets and most of which will enhance the Google Home device.
Let's Talk About The Nest Hub Max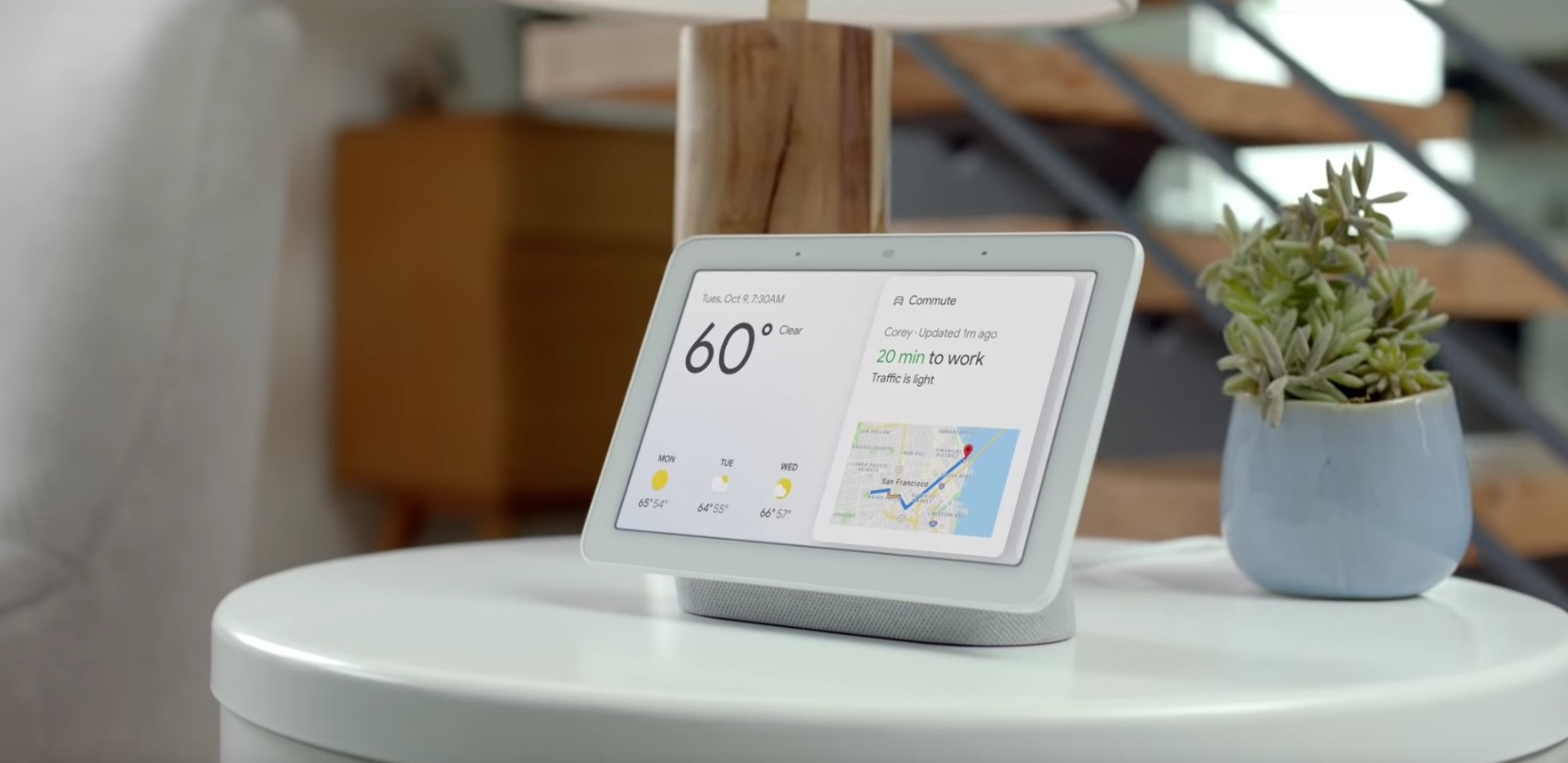 When a presumed leaked video accidentally appeared on Google's Product landing page last month, a screenshot of the product that was captured before being taken down showed a massive 10 inch device screen that has a stereo speakers. The thought is if that product really does exists, then it might be brought forward during the I/O event and we expect to have the Nest Cam built right into it so it can be a really great cam-security device with customizable motion alerts.
But assuming the device isn't what we thought it is, then it might just be a Google Home Hub screen which has almost the same feature as the Smart home speaker device from the company. Sold for $150, the Home Hub combines smart speaker functionality and capacity touchscreen display.
The screen lets you see weather forecasts based upon your request. It also has the capacity of displaying calendar or browsing through the list of local restaurants if you need a quick place to eat out. It can also serve multimedia purposes such as watching videos, previewing pictures and or checking on your smart home devices.
While the present Google Home Hub is less pricey, the combination of the Nest Hub Max and similar speakers could hike the price if possible unless this is released as an entirely separate product on it's own. For example, the Google Home Max sells for $400 but even the original Home Hub device is still less at $130 while the mini version is just $50 which has almost all the features including voice command and assistant. So Google is trying to give it's customers a list of products from different ranges depending on their budgets and wants.
So if the Nest Max Hub eventually gets integrated into the Google Home Application, that would be quite interesting considering the fact that Google owns Nest, they operate the devices and services separately. So you might be able to now control your Nest thermostat and other products just from within the Google Home Hub smart device.
Google Assistant Connect
Android Things was supposed to be Google's dream smart home solution considering being an extract of the Android mobile operating system that is tailored to work for smart home devices. But then Gogle officially launched it alongside Google smart display. So smart displays from companies like Lenovo, JBL and even LG uses the Android Things as the base operating system for their devices. The promises were very interesting and we hope it continued to be more interesting.
So later on, Google eventually repurpose the Android Things to be focused solely on Smart displays and Smart speakers. That is why I feel the Google Assistant Connect could be the potential replacement as a way for developers to focus on creative hardware and thensecurely tie to Google's cloud
During the CES earlier January 2019, Google showed off the Connect Service which enables various devices to communicate freely with any Google Home Mini device that sits nearby it and also to start variety of features that are on the Smamrt speaker device.
A credit card-size, Connect-driven e-ink display pinged the Home Mini for weather and traffic information. A Connect-based button turned on lights. Google says you can program a hardware device using Connect to do anything Google Assistant can do through voice commands.
When software developers eventually gets on board, the Google Assistant Connect could help the company greatly expand its lineup of smart home devices in the future and it would help the Google Home app gain a more central place in your smart home setup.
Lenovo Smart Clock
The Lenovo smart clock is still a concept in development and during the CES, there were protoype display of the device for journalists to see. What this meant is that the Lenovo Smart Clock is going to be an actual product and will be released very soon. Wtahc out for our review on that. We expect that to be an amazing show off during the Google I/O conference.
What the Lenovo Smart Clock basically do is display some really interesting contrast to the possible Nest Hub Max which although is smaller than the current line-up of Google smart displays. During the January CES prototype display, it was a 4-inch screen that has no camera.
It's made to fit right well to your bedside and it only shows you the weather, calendar, traffic and music. It's something that can always be your smart companion whenever you're coming to bed at night or going out in the next morning. It also has Google Assistant built right into it which can be commanded via your voice to make request but it's shortcomings are that it doesn't support video playback, it doesn't show you recipes or some other sophisticated smart home display features from bigger devices.
But it's still an interesting device which can be fun to have on your bedside. A good example of that is that 30 Minutes before your alarm goes off, the device's display starts to brighten to gently rouse you from sleep. This feature can be really interesting if you like beautiful things. The price is around $80 which is $30 more than the $50 priced Google Home Mini device.
Google I/O will be another time to see how far the company had gone but it's line-up of smart home devices might just be it's focus this year but all fingers are crossed till the May 7th while we bring to you all the event of the Google I/O directly to you as you're tuned in to Brumpost.