The kitchen is a really important. You eat, drink and even do other stuffs in there which is why it needs to be super clean as far as hygiene is concerned. How clean this particular room is speaks so much about your personality which makes up how people view you from the public.
One thing about the kitchen that is quite challenging is perishable foods management. How much you can handle perishable foods is very important. I mean what would such more than seeing your kitchen littered up with dozens of raw foods as well as processed foods because you didn't seal them back well or something.
One way to get rid of these mess is by simply decluttering your fridge as well as kitchen and pantry which would make the environment free from germs and microbes that can lead to serious infections. How good you can manage your kitchen won't only help you manage your bills, it would also help you get everywhere well organized to the point your kitchen simply becomes a place you can stroll into to have some good time, anytime.
Get rid of whatever you don't want
One important thing about good dieting is surrounding yourself with good food. Getting rid of the kind of foods you do not want is a very important way of keeping your kitchen cleaned up at all times. "The biggest mistake people make is putting unhealthy foods anywhere at all in their fridge," says Pat Salber, M.D., founder of "The Doctor Weighs In." "So as painful as it is, I suggest doing a thorough fridge-cleaning and throwing away (not giving away) [sugary] sodas, foods loaded with artificial ingredients (all that stuff with unpronounceable names), sugary yogurts and super-caloric foods, including those sitting on your condiment shelves. If it is not there, you can't eat it."
Sugary drinks like juice can be bad for your healthy if you're on a meal regimen. Also, other over-preserved foods which are well endowed with chemicals can be really bad as well. Getting rid of such food will help you maintain a good eating balance according to a New York best-selling author of the book "Beauty Detox" and "Radial Beauty", Kimberly Snyder.
"Everything you see in your space should be supportive of your goals and reflective of how you want to live," she says. "If it [is] not… just throw it away." With that out of the way, you can focus your attention on those things that will enhance your life and make you healthier.
One temptation you could fall for is when you have taste for sweet foods and your kitchen is well ridden with cookies and so forth. Developing the attitude of "Out of sight, is out of mind" can help you take away your minds off those kind of food if that is what you plan on achieving. According to one dietitian, Megan Denos, R.D.N., she said "One easy thing you can do now to make it easier to eat healthy is to remember 'out of sight, out of mind.'" says Denos. "Keep the foods that you want 'out of mind' hidden away and in hard-to-access places." 
If you have to whip out a step stool every time you want a handful of chips, you might be less likely to do it than if they hang out on your counter.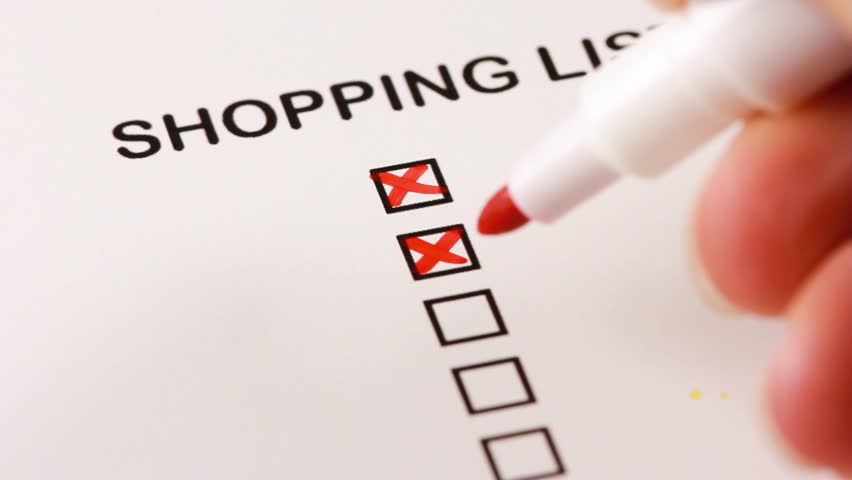 Make a list before shopping.
Being able to organize things in your kitchen is very important as it could save you all the hurdle that follows with meal planning and so forth especially when next you're heading to the grocery store. According to an expert, "The biggest mistake people make when organizing their fridge is buying food without having a plan, which usually leads to buying unnecessary items," says Andres Ayesta, M.S., R.D., C.S.S.D., registered dietitian/nutritionist and owner of Vive Nutrition. "For example, buying five different types of vegetables without really having a plan on how you will cook them or eat them will likely cause them to stay there for a week before you toss them out." 
This means making a list (and adhering to those lists) to plan out those food you want. Having a preparation before entering into the over-congested grocery store can be really tempting especially when you don't have any made up list. You end up littering your kitchen with loads of food items you either don't want or that would draw you back in your meal planning.
Snyder recommends stocking up your fridge with staples like leafy greens, healthy veggies, organic fruits, organic free-range local eggs, avocados, raw almonds, chia seeds, unsweetened almond or coconut milk and quinoa, to start. If you need a little additional inspiration, check out these meal prep cookbooks to help give you more great ideas.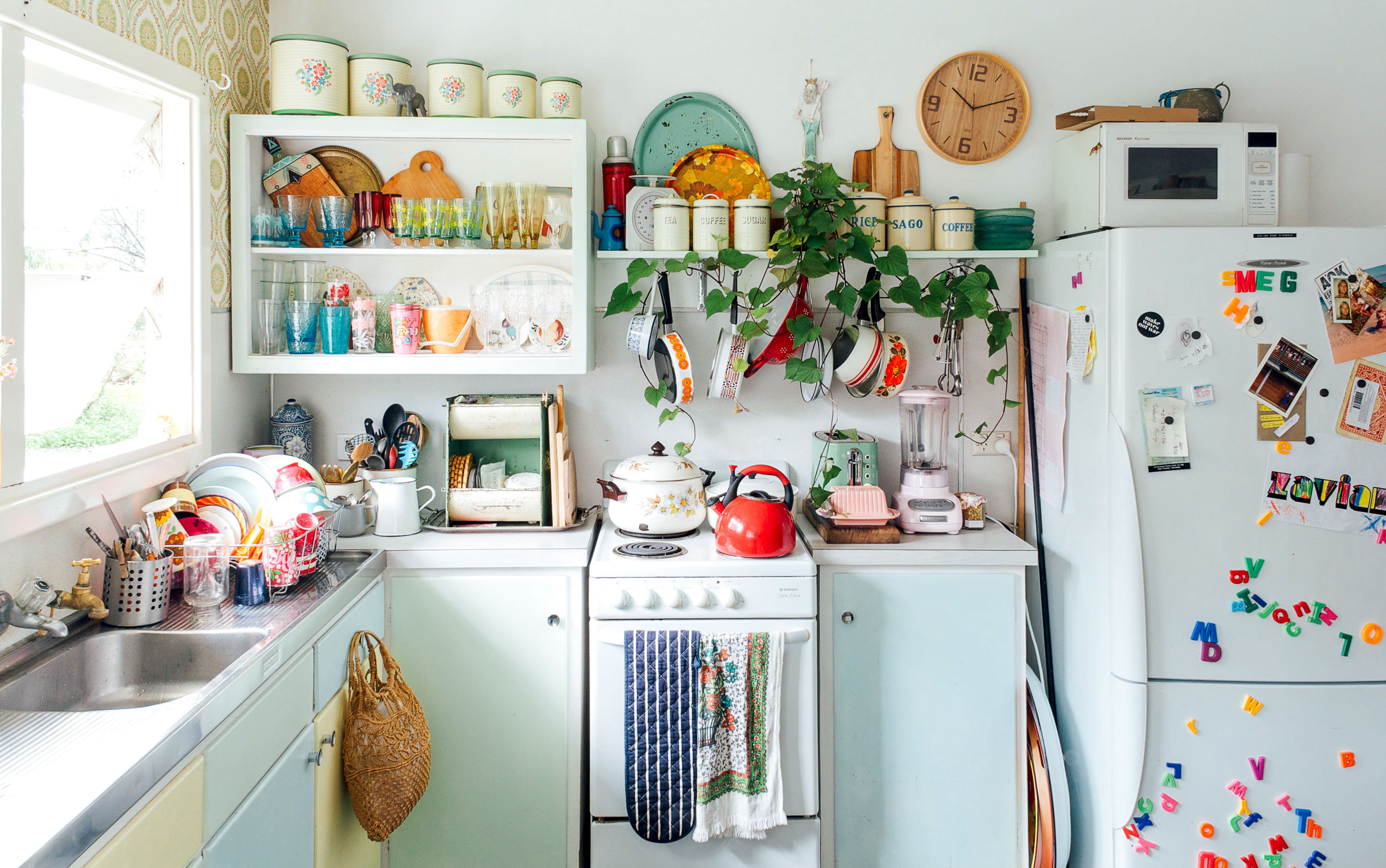 Don't overfill your kitchen.
If you're the only one living in your home, then don't shop as though you're trying to feed an entire clan. The essence of this is to plan out what you want and how long those would last. For example, you could take things such as how long you spend in your home every weekdays, assuming you're working 9 to 5. And if you have just a nuclear family with just your spouse and maybe two children, things should be well thought out.
"The biggest mistake people make when organizing their fridge or pantry is packing it so full that they don't even know what's in it," says Denos. "Let's face it: you can't eat food that you don't know is there. In order to eat healthy foods, it's important that you a) can easily see them and b) remember that they are there."
Make both a little easier with these Amazon products to Marie Kondo your kitchen and some tools to help reduce food waste because wasted food can also become a serious hindrance in your kitchen when they are becoming too much.
The healthiest food should be easy to access
You don't want to be looking for your veggies or fruits. Keep those foods that are great to your health very close to where they can be accessed whenever you want especially if you're following a calendar.
"Don't hide produce away in the bottom drawers," says Denos. "It's so easy to forget about all of your fresh fruits and vegetables when they are tucked away in the bottom drawers of your refrigerator. By keeping them out in the open (and at eye-level), you'll remember that you have them and eat them before they go bad."
This also goes for your pantry: if it's at eye level, it will be top of mind. "Keep healthy foods at eye-level (probably the middle shelf of your fridge or pantry)," she says. "Since this is where your eyes will go first, choosing the healthier options will be a no brainer."
Fruits, meanwhile, will "live happily in a basket in plain sight," says Salber. A basket is perfect for making sure you actually see them when you're hankering for something to eat.
Do the prep work.
Once you have your meal plan designed and your food purchased, prep work is the next step to making your life easier. "Get the tedious work out of the way," Ayesta says. "As soon as you do your groceries, prep all your food to have it ready for cooking: pre cut your vegetables and store them in sealed containers like mason jars to preserve them longer, portion the meats you will be eating in the next two to three days in Ziploc bags. Leave foods that last longer in your drawers (usually dressings and canned products)."
By putting this leg work in early, you'll fly through cooking the next few days. If you have special dietary concerns, check out our Paleo meal prep guide and our keto meal prep guide for more ideas. Bon appetit!