Still on Samsung, a new revelation just popped up on the internet recently which is an official-looking render of the Galaxy S20 series (Galaxy S20, S20+ and S20 Ultra). This new reveal came from Ishan Argawal through their website 91Mobiles which shows the Galaxy S20 series in three different colors.
There have of course been lost of rumors about the shape and length of the devices with the obvious one being the fact that Samsung seems to be ditching it's curved display at least on the Galaxy S20 series. Those claims were confirmed in this leaks as there is no 3D cirved glass on the S20 & 20+ rather, Samsung implemented 2.5D glass instead but only the Galaxy S20 Ultra which has curved display along it's edges. So if you're a fan of the curves, then you might just opt for the Galaxy S20 Ultra then.
As for the colors, the Galaxy S20 will come in different colors. The image below shows the Galaxy S20 in particular sporting a reportedly "Cloud Blue" color. Other leaks called the color "Sky Blue" but whatever-Blue it's going to be called, we're ready for it.
But color name aside, the device's material finishes is rumored to be matte which will probably be a step behind Apple after it introduced that on it's iPhone 11 series some months back (September 2019 precisely). Also the intrusive Bixby button is likely gone for good this time.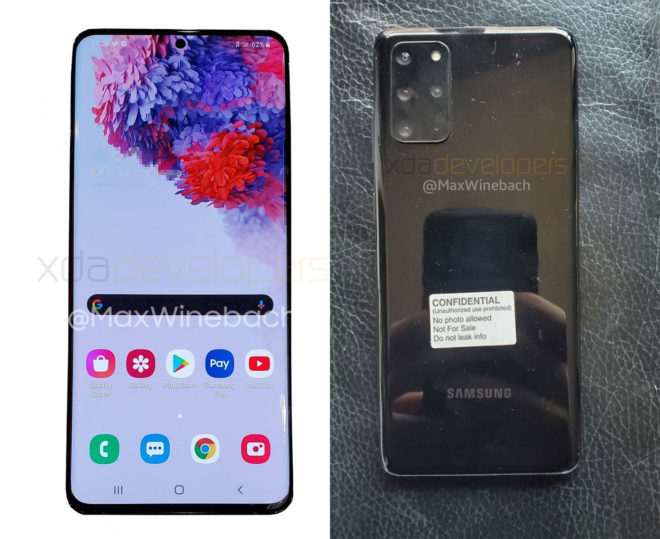 Now proceeding to the Galaxy 20+, the device lacks the fourth rear camera which would have widen it's rectangular camera module. The device will also come in a Cosmic Gray color based on reports and leaks we got.
The Galaxy S20 Ultra's specs arrive in this report. It's claimed to have a huge 6.9-inch Infinity-O AMOLED screen with QHD+ resolution and a 20:9 aspect ratio; we've also heard about 120Hz support on this display and the Infinity-O camera is a 40MP selfie camera.
We don't know for sure which Chipset Samsung will use for the Galaxy S20 Ultra but it's definitely going to be a high-end one which would be between the Snapdragon 865 or the Exynos 990. Who knows, Samsung might use both depending on which market the device is being sold. But these chipsets both support the 5G nework.
To power up the big chipset, the device could sport a 16GB or RAM space with a massive 512GB internal storage but also it will still depend on the taget market. As for the rear camera setup, it's likely Samsung use it's massive 108MP sensor on this device and then accompany it with another 48MP telephoto sensor, a 12MP Ultra-wide sensor and a 3D ToF sensor. There's also a periscope camera with 100x digital zoom, but the MP-count is not yet known. A 5,000 mAh battery keeps it awake.
With so much high-end specifications, if all these are included within the Galaxy S20 Ultra, we might be looking at a quite expensive smartphone that could peak $1,500. But according to reports, the Samsung Galaxy S20 Ultra could start at €1,349(US$ 1,487, NG ₦ 539,155, SAR 21,426) for the base variant (could be either 128GB or 256GB) and a 512GB variant may go for €1549 (US$ 1,707, NG ₦ 619,089 , SAR 24,603).